Galactic Odyssey Solitaire
New patience game with two types of gameplay and a lot of levels by Card-Board-Games.com You are Galactic Odyssey knocking about the cosmic world. Move from one planet to another and return to the Earth where Penelope is waiting. There are twenty planets with 5 levels in each, so 100 levels in sum for your continuous pleasure. The game combines two types of the popular solitaire: Tripeaks and Match2 with different rules.
Ancient Jewels 2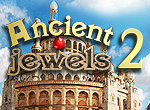 This time Ancient Persia proposes its mysteries for you, be ready for thrilling and absorbing adventure. Match the same color jewels three or more at time to make them burst. Destroy all stone slabs under the jewels to pass to the next level. Excellent graphics, melodious music, different bonuses are main features of this bright matching game.
Ancient Persia Solitaire
New online solitaire with two different games inside and picturesque graphics in Persian theme by Card-Board-Games.com The caravan with goods moves slowly across the terrible desert from one oasis to another. The travel is dangerous and difficult and you should play 5 solitaire games in each halt. There are 100 levels and two different types of solitaire: Tripeaks and Match2.